The 2021 Subaru Love Promise Customer and Community Commitment Award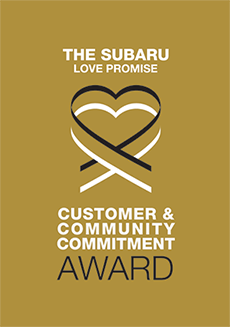 We've been nationally recognized for our dedication to our customers, our community, and the Subaru Love Promise.
We're honored to receive the 2021 Subaru Love Promise Customer and Community Commitment Award. This award nationally recognizes elite Subaru retailers who provide an exceptional customer experience at every interaction with Subaru. These retailers have also demonstrated an outstanding commitment to supporting passions and causes in their local communities in important areas such as the environment, community, health, education, and pets.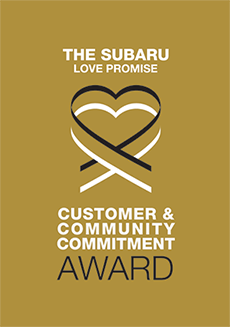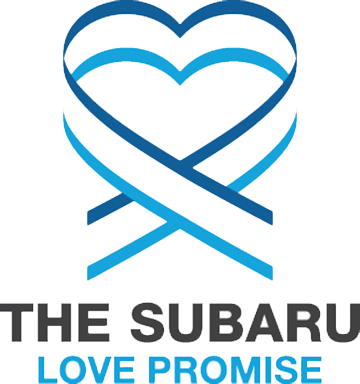 What is the Subaru Love Promise?
Subaru and our retailers believe in making the world a better place and the Subaru Love Promise is our vision of respecting all people. This is our commitment to show love and respect to our customers and to work to make a positive impact in the world.
How is Austin Subaru dedicated locally to the Love Promise?
At Austin Subaru, our Love Promise to the Austin area can be seen in the many contributions we've made to children's health, the arts, animal well-being, and more. We're grateful for the opportunity, not only to be a part of the Austin community, but to serve it as well. "We are all About Austin!"
Austin Pets Alive!, Paddle for Puppies, Dog Day Afternoon, Wagathon Walkathon, Austin Bulldog Rescue
TreeFolk, Austin Parks Foundation
Meals On Wheels , Central Texas Food Bank, Austin Angels, Caritas of Austin
Love Promise Stories from Austin Subaru
Subaru and Austin Subaru believe in making a positive impact on the communities in which we live and work. We uphold that belief through our Love Promise Community Commitment. Every month, we select inspiring stories from customers and partners from around our area who strive to support our collective commitment and feature them here
Austin Subaru Supports Champions to CureDuchenne - Traci T
This year, CureDuchenne held their annual Champions to CureDuchenne event! CureDuchenne is a nonprofit organization that raises awareness and funds to find a cure for Duchenne, a rare form of muscular dystrophy found in children. While uncommon, this disease can be lethal and is extremely devastating for families to deal with. CureDuchenne wants to be there to support them in any way they can, and the Champions to CureDuchenne event is an awesome way to do this! Everyone got together with their families for a fantastic evening under the stars. Additionally, this event featured gourmet food, delicious cocktails, games, and live and silent auctions, making for a night full of fun! Austin Subaru has been fond of CureDuchenne and the incredible work they do, and they wanted to show their support. As a result, Austin Subaru did a $1,000 sponsorship!
---
Meals on Wheels 2021! - Becca L
With over 8,000 volunteers, Meals on Wheels of Central Texas works hard to provide services to nearly 5,000 people in need. They offer in-home care, home repairs, grocery shopping assistance, a monthly supply of shelf-stable food items, veteran services, problem-solving therapies, and Alzheimer's respite care to their clients who are either homebound or are struggling with disabilities. They also offer pet food and pet healthcare to their clients dogs and cats! This organization aims to nourish and better the lives of people in need, and they are certainly doing an excellent job! Austin Subaru is all about giving back to organizations that do amazing work for the community, so they were super excited to contribute a $5,000 sponsorship!
---
A Light in the Dark 5k Run - 2021 - Chelsea S
American Foundation for Suicide Prevention (AFSP) is here to provide resources to people battling with suicidal tendencies, knows someone struggling with suicidal thoughts, has lost a loved one to suicide, or anyone that wants to learn more about this issue and find out how they can make a change. This year, AFSP held their annual A Light in the Dark 5k Run to bring awareness to illuminate the conversation around suicide prevention and celebrate the health and wellness going on within our society. Runners had the option to choose their own 5k route, which allowed everyone to make this event special to them. In addition, everyone received their own race packet filled with resources from AFSP. If there are two things Austin Subaru loves, it's maintaining healthy lifestyles and, of course, giving back to the community. This organization does incredible work to help people, and Austin Subaru wanted to show their support by contributing $1,000!
---
Austin Subaru Loves Fall in Love with Nature Gala! - Terrence S
This year, Families in Nature held their annual Fall in Love with Nature Gala! Families in Nature is a local non-profit organization with over 12 years of experience in outdoor education. Their mission is to inspire families to fully appreciate the beautiful nature around us and teach their children to do the same. This organization welcomes everyone with open arms, regardless of who you are. Due to Covid-19, the Fall in Love with Nature Gala was held virtually, but that did not stop anyone from putting on their camping attire and having a great time! This event was all about appreciating nature and the gifts it offers to our world. Austin Subaru is a huge advocate for preserving nature as much as possible, and they were more than interested in contributing to this incredible organization. As a result, Austin Subaru did a $2,500 sponsorship for this event!
---
Austin Angels: Foster the Future 2021 - Sam C
In preparation for the back to school season, Austin Angels held their annual Foster the Future Back to School Drive-Thru! This is an incredible event that is designed to support foster families and their children and help them have an amazing start to the school year. Austin Subaru teamed up with Austin INFINITI to put together personalized Love Boxes for each child, which is filled with school supplies customized to that child's needs. In addition, the employees that participated in creating these boxes wrote personalized notes with words of encouragement! At the Drive-Thru, the students got to pick up their Love Boxes, as well as snacks, books, and backpacks! There were carnival games and popcorn, making for a fun and interactive day! Austin Subaru feels honored to have participated in this amazing cause. As a result, they did a $6,000 sponsorship for the Foster the Future event!
---
Subaru Loves Keeping Austin Beautiful! - Sienna P
For over 35 years, Keep Austin Beautiful has been working to preserve Austin's natural beauty and quality of life. This nonprofit organization encourages Austinites to come together to beautify green spaces, clean waterways, and reduce waste every day. This year, they held their Keep Austin Beautiful Day, which brings together hundreds of volunteers for a spectacular day of community service throughout Austin. Free cleanup kits were provided to volunteers, which was super helpful and kept everything organized. Although Covid-19 kept everyone from gathering in large groups, this was truly a memorable day. Austin Subaru is a huge advocate for maintaining Austin's natural beauty, so this organization really spoke to them. As a way to show their support, Austin Subaru did a $5,000 sponsorship for this amazing cause!
---
Sustainable Food Center's Garden Party Picnic! - Shawn M
The Sustainable Food Center held their Garden Party Picnic in May of 2021! For those who are not aware, this organization does incredible work supporting local farms. In addition, they are working to better the overall life of these farms and are working to make fresh, locally grown food more accessible to everyone. This event, held at Barr Mansion, was an amazing way for everyone to get together to support this amazing nonprofit. Everyone enjoyed the variety of delicious food and drinks, along with a live band. Overall, the day was filled with positive vibes and pure fun! As a result of this event, the Sustainable Food Center was able to raise $138,000 which will be used to support local farmers! Austin Subaru is a huge fan of the work they do for the community, and wanted to find a way to show their support. As a result, Austin Subaru did a $2,500 sponsorship for the Sustainable Food Center!
---
Austin Subaru Presents: Paddle for Puppies 2021! - Haley B
This year, Austin Subaru held their annual Paddle for Puppies fundraising event to support Austin Pets Alive! Established in 1997, Austin Pets Alive! has a mission to reduce the number of animal killings as well as provide stability for homeless, vulnerable pets in need. Paddle for Puppies is a fun and collaborative way to support this amazing cause! Everyone gets the choice between a kayak, canoe and paddleboard to take down Lady Bird Lake for the day. With Covid-19 still being present in society we weren't able to get back to 100% normal, but that didn't stop anybody from having a spectacular time. Austin Pets Alive! continues to do incredible things for the community each day, and Austin Subaru feels honored to have such a close relationship with them! The Paddle for Puppies event was able to raise $30,000 for Austin Pets Alive!
---
2021 Bowl for Kids Sake Event - Haley B
Big Brothers Big Sisters of America (BBBS) has been changing the lives of children since 1904 by providing opportunities for them to reach their highest potential. Thousands of children go without having a consistent adult role model in their lives, and BBBS has a mission to change that! Volunteers, donors and advocates all come together to be positive influences for young people in need. This year, half a million people came together to host fundraisers to support this amazing organization. To celebrate afterwards, they hosted the Bowl for Kids Sake Event! This is a fun and collaborative way for the community to come together and make an impact. Austin Subaru was honored to be a part of this with their $2,500 sponsorship!
---
One Word at a Time with Austin Subaru! - Haley B
It is remarkable how much of an impact one organization can make. Austin Speech Labs is an incredible nonprofit that strives to support stroke survivors and their families by making speech and cognitive therapy more affordable and accessible. Covid-19 has certainly put a dent in many people's plans, but that didn't stop Austin Speech Labs from hosting their One Word at a Time virtual event! The objective of this fundraiser is to contribute to the critical work being done by Austin Speech Labs, which ultimately rebuilds the lives of several stroke survivors. Not only were they able to surpass their goal of $100,000, but Austin Subaru had the opportunity to support this amazing cause with a $3,000 sponsorship!
---